Theresa May's preferred route to Brexit is still pretty hard, but holding a general election three years early means it may now be smoother.
The British prime minister will on Wednesday clash with opposition Labour Party Leader Jeremy Corbyn at her weekly round of parliamentary questions and ask lawmakers to agree to bring forward the next general election, currently scheduled for 2020, to June this year.
Her plan is obviously to increase her Conservative Party's hold on power. That would grant her the personal mandate she now lacks and more power to drive legislation through the House of Commons. Opinion polls suggest May has a strong hand.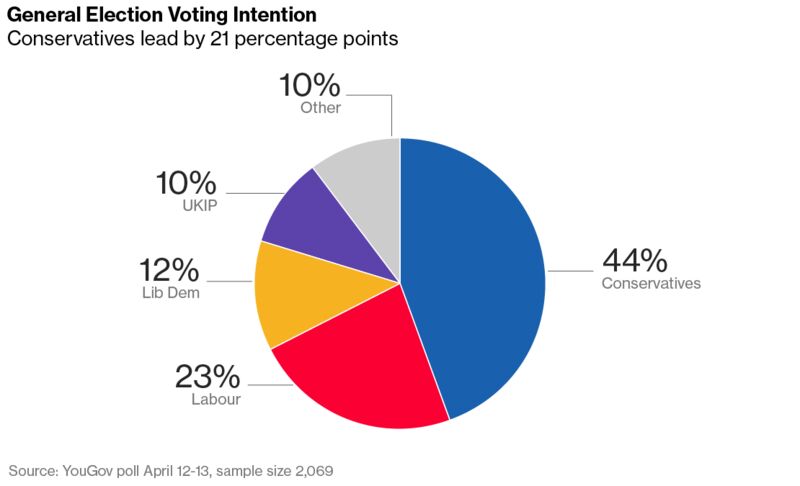 With that in mind, May wants to neutralize opposition in the House of Commons.
"There is very clear potential for voting against the legislation to implement the leaving of the EU, and against the final deal," May told The Sun.
While she may still continue to push for a clean break from the European Union, a bigger majority could dilute the voice of those who campaigned most vocally for Brexit and perhaps favor walking away without any deal. It could also make it easier to line up a period of transition that some would oppose because it would come with continued ties to Brussels.
At the very least, she will no longer be negotiating knowing that an election looms and that she must deliver Brexit of some form. She could even agree to lengthen the negotiations if that's what the rest of the EU favors. She may now have enough time to flesh out a new free-trade deal by then.
"If we're negotiating at a point that is quite close to a general election, I think the Europeans might have seen that as a time of weakness when they could push us," she said.
The upshot? Brexit might still be as hard as May has outlined – she has said nothing about changing her position on leaving the EU single market or the customs union – but it could be less disruptive. The U.K. is now more likely to avoid the cliff edge dreaded by banks and businesses; think tank the Eurasia Group puts the chance of that at 20 percent, down from 30 percent.
In announcing her move on the steps of 10 Downing Street on Tuesday, May also also talked of securing a platform "to see us through Brexit and beyond." On the domestic front as well as the European one, she now has the chance to write and deliver her own election platform rather than work with the mandate secured by her predecessor, David Cameron.
What Are the Risks?
May is asking voters to back her on Brexit in a country where 48 percent voted to stay. The anti-Brexit Liberal Democrats, who came close to being wiped out in the 2015 election, sense an opportunity. They will target seats around London that voted "Remain" in the EU referendum and are represented by "Leave"-backing Tories.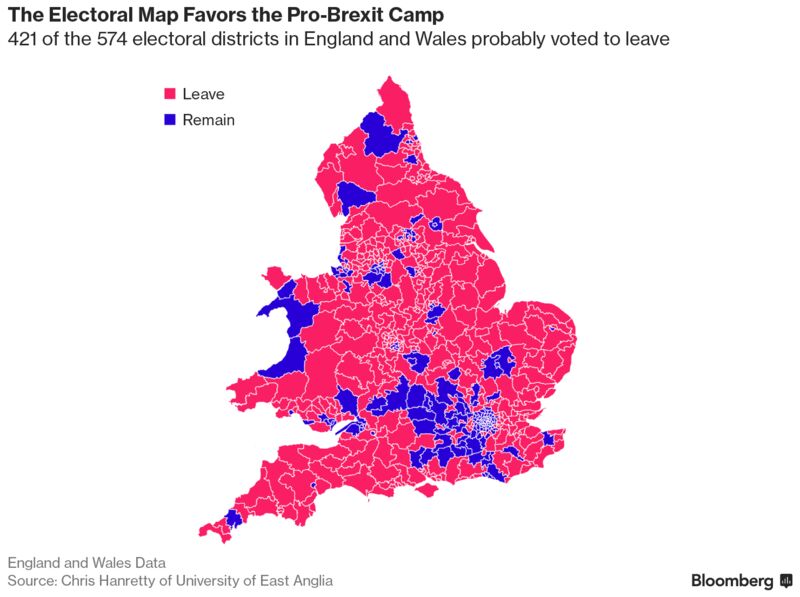 Scotland is a complicating factor, too. Not long ago May argued that Scottish National Party calls for another independence referendum would be an unnecessary distraction. That argument is now harder to sustain, and another strong showing for the SNP would put her in a political bind, Bloomberg's Rodney Jefferson reports.
Read more:
On the Markets
Hopes of a softer Brexit sent the pound to a six month high on Tuesday as traders decided a re-elected May would have more scope to make concessions. Deutsche Bank called her decision a "game changer" for both the pound and the Brexit negotiations as it removed any bets against sterling.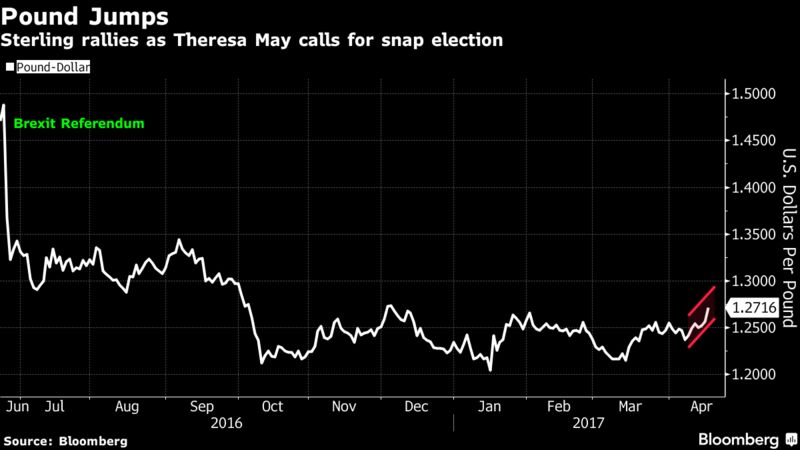 But the rising pound prompted the FTSE 100 Index to fall 2.5 percent, its biggest dropsince the aftermath of the Brexit vote.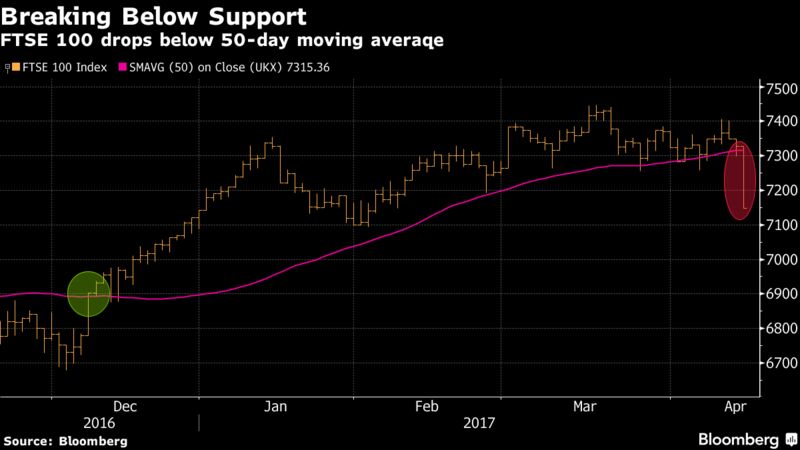 The Economy, Stupid?
May goes to the country with a favorable backdrop – unemployment at its lowest in more than a decade while growth is defying forecasts. That positive environment was reinforced just hours after her election announcement when the International Monetary Fund upgraded its U.K. economic growth outlook.
May wants to exploit the economy's resilience before voters really start to feel the effects of faster inflation or the reality of Brexit potentially begins to undermine hiring and investment, Bloomberg's Scott Hamilton and Lucy Meakin report today.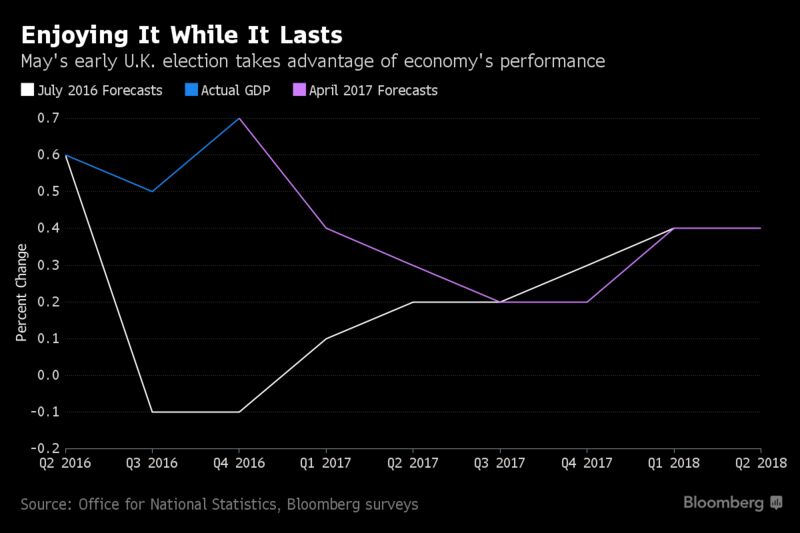 "If you were going to pick any time to do it, now would be the best," said Paul Hollingsworth, an economist at Capital Economics.
Still, the Bloomberg Brexit Barometer, which tracks the overall health of the U.K. economy, slipped on Tuesday.
Europe's Response
European policy makers took May's announcement in stride, although Portugal's Secretary of State for European Affairs Margarida Marques said the start of the Brexit talks "may suffer some delay."
May telephoned German Chancellor Angela Merkel, EU President Donald Tusk, European Commission President Jean-Claude Juncker and Irish Taoiseach Enda Kenny. She also called U.S. President Donald Trump.
In an interview with Bloomberg News, Irish Finance Minister Michael Noonan even said he spotted "indications of a compromise position" over the size of the bill the EU wants the U.K. to pay and Britain's willingness to cough up.
And Finally…
Tusk turned movie critic when he heard about the latest twist in the British political thriller.
"It was Hitchcock, who directed Brexit: first an earthquake and the tension rises," he tweeted.
and
19 April 2017, 08:30 CEST